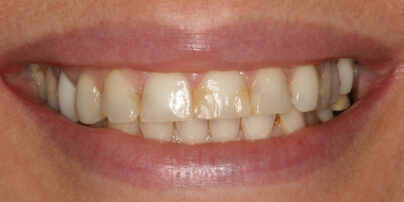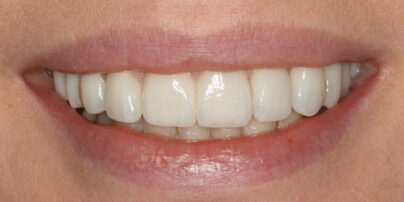 Case 11 – Veneers
"Being new to the area I had done some research of local dentists that did cosmetic dentistry and I decided to see Dr Baber Khan at Crook Log. Case 12 After 2
At my first appointment I explained I wanted to have a set of veneers on my upper teeth as at 44 they were worn down and chipped. Rather than jump at the opportunity of someone spending thousands I was pleasantly surprised that Dr Khan recommending I preserve as much of my natural teeth as possible rather than having veneers.
It was only after I had had my thorough checkup that we agreed to do the veneers as I had many white fillings on the front if my teeth that were not noticeable until he did my check up.The level of care and attentiveness I received was of the level I would expect from a Harley St dental practice, and the dental technician who would be making my veneers, came to an appointment to study what results we wanted (I have a uneven smile called a 'cant' which makes the veneers a little trickier to perfect).
I am so pleased to have gone to Crook Log and recommend it highly. I have seen so many bad dentists over the years and I have finally found one I will stay at."
Ms CH
Would you like to achieve a similar result for your smile?
Back to Smile Gallery