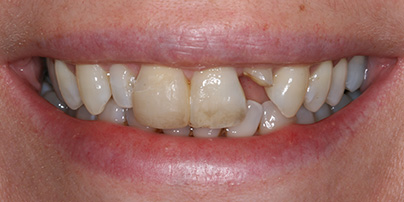 Case 5 – Smile Makeover
"During a recent holiday, I had a fall, landed on my chin and damaged my upper front teeth. The damage was too extensive for the dentist in Cyprus to repair, hence I visited Crook Log Dental Practice on my return to the UK. One of my front teeth had been pushed out of its socket with the trauma, making it difficult to eat, and 2 other teeth were severely broken.
My dentist was patient and reassuring during my emergency appointment, explaining the treatment that would be necessary. He put the dislodged front tooth back into position and built up the broken front tooth with a composite filling which immediately relieved the discomfort and improved my confidence (and my appearance!) He then began root canal treatment to save 2 of my teeth as the nerves were dying following the trauma, then left them all to settle down before moving on to veneer and 3 crowns that would complete the restoration.
During the whole process my dentist put me at ease, making wax-ups of how the completed work would look and providing me with answers to all my questions (of which there were many!) I chose to have my teeth whitened before being fitted with the temporary crowns & Veneer whilst the porcelain ones were bring made, and I was delighted with the results. Now the work is finished and I've come a long way since crying in the dentist chair in Cyprus to grinning broadly at my new smile! With enormous thanks to all at Crook Log Dental Practice."
Mrs Green
Would you like to achieve a similar result for your smile?
Back to Smile Gallery