For cutting-edge smile design, digital dentistry is the way ahead. Crook Log Dental proudly provides SmileFast for dream smile solutions.
Crook Log Dental is pleased to offer SmileFast to several patients seeking cosmetic dental enhancements. Results can be obtained quickly, easily, and affordably using this innovative Composite Bonding technique.
What is composite bonding?
Composite bonding, also known as Cosmetic Bonding or Composite Bonding, gives the appearance of various shapes, sizes, and colours on natural teeth.
Composite is a tooth-coloured material that is permanently applied to the surface of the tooth. The procedure, in essence, corrects very mild crookedness, reduces spacing between teeth, and restores worn down teeth.

How is SmileFast different from composite bonding?
To make your smile appear more balanced, four, six, or eight of your front teeth can be modified using aesthetic smile design principles.
Photos and a digital scan of the mouth are used to create a 3D-printed dental diagnostic template.
During the procedure, there is no need to drill or extract the natural tooth. Sanding or roughening is sufficient for optimal adhesion.
Not only can we restore worn teeth and mild crowding, but we can also achieve symmetry, correct morphology, and perfect shapes. The majority of procedures can be completed in two to three hours in a single appointment.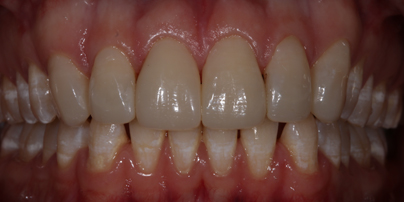 For more information regarding this treatment
Back to Cosmetic Dentistry