Healthy smiles with a nearly undetectable finish.
We recognise the importance of aesthetics as part of our commitment to producing healthier smiles. We use composite technology to replace silver fillings with a tooth-coloured composite to brighten the smile line and offer you a sparkling, healthy smile.
What are white fillings?
White fillings are made using dental composite and resins. Although they are known as white fillings, the material is available in various tooth colours and tints. Your dental team carefully blends the colour of the composite to the colour of your natural teeth.
Fillings are applied in cavities that have been meticulously prepped, and any damage or decay cleared. This technique removes any damaged tooth tissue and repairs the surface to prevent further bacterial infection.
What can I expect if I get white fillings?
The majority of treatments are carried out when a rubber dam is in place. The rubber dam not only keeps moisture out of the area (which is required for a good tooth adhesion), but it also provides comfort by collecting any water spray.
Following site preparation, we use gentle chemical agents to clean and increase the retention of your filing for a long-lasting fit. We will apply the filling in layers in the colour you have chosen, which will be cured with a blue light. All that is needed for a nice bright finish is a polish and bite check.
Why should I consider white fillings?
The majority of us will need fillings at some point in our life. Most people choose white fillings because they are virtually invisible, allowing them to smile and speak with confidence. They are not only more cosmetically appealing than silver amalgam fillings, but they also need less healthy tooth tissue to be removed during treatment, therefore being less destructive.
Are white fillings affected by tooth whitening?
The chemical agents used to lighten your natural tooth enamel do not work on composite resin. If you are considering a cosmetic dental treatment such as composite bonding, it is best to have teeth whitening first to choose a shade that matches your new beautiful smile.
Is white filling material as effective as silver (amalgam) filling material?
Because of the materials utilised, white fillings are now on par with amalgam fillings and should last as long with the added advantage of being more conservative of tooth structure.
How long will these fillings last?
Although numerous factors affect longevity, a white filling can last up to ten years in the absence of destructive habits and trauma.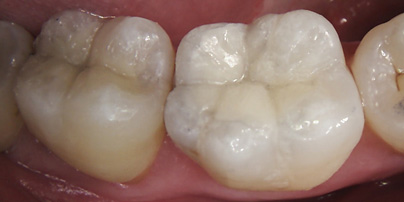 For more information regarding this treatment
Back to Cosmetic Dentistry